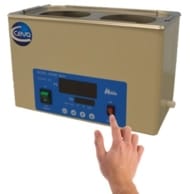 Digital water bath for Frozen Vaccines
Reliable digital thaw bath system that guarantees accurate thawing process for cell associated frozen-vaccines
Ceva Vaccines: Vectormune ND, Vectormune AI, Vectormune IBD, Cevac MD Rispens and combinations
Key Features & Benefits:
Digital selection of parame-ters with real visualization of temperature and time dis-plays.

The unit is thermally isolated between tank and the exter-nal case, allowing a higher general performance, a better temperature homoge-nization and energy saving.

Highly appropriate to use in Bi-ology particularly with the cell associated frozen vac-cines.

With 5 Li capacity.

Easy to use control panel.

Equipped with an automatic alarm (ALM) system.